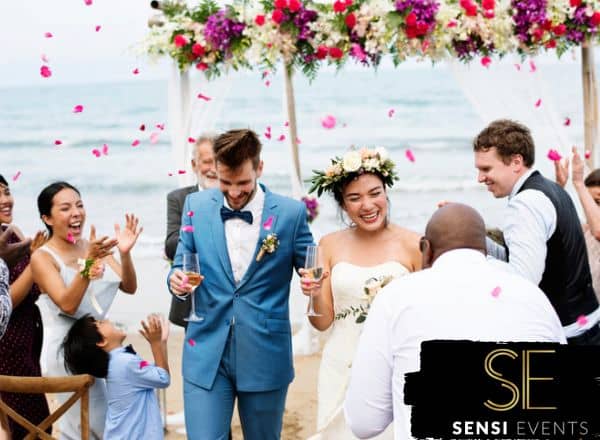 Destination weddings are a popular choice for many couples, as they offer a unique and memorable experience for both the bride and groom, and of course their guests! However, planning a destination wedding can be complex and stressful. This is why it's important to work with a professional event planner. Reaching out to a planner can be the single most important phone call that you make in the destination wedding planning process. In this article, we will explore the benefits of working with a Calgary event planner for your destination wedding and why Sensi Events is the best choice for your big day!
Why Work With Sensi for Your Destination Wedding?
Experience And Expertise
One of the main benefits of working with a Calgary event planner like Sensi Events for your destination wedding is that we have a wealth of experience and expertise in the
industry. With multiple destination weddings under our belt (including our own!) we have a deep understanding of what it takes to plan a successful destination wedding and can help you navigate the many challenges and logistics involved. Whether you're planning a wedding in the Caribbean, Europe, or Asia, our team has the knowledge and experience to ensure that your wedding is a success.
Budget Management
Another benefit of working with a professional event planner for your destination wedding is that we can help you stay within your budget. We are aware of how expensive
weddings can be, and how quickly costs can spiral out of control. With our extensive network of suppliers and contacts, we can help you find the best deals on everything from travel and accommodation to catering and entertainment. This means that you can have the wedding of your dreams without breaking the bank. To find out more about how to save while wedding planning read "How to Throw a "Baller" Wedding on a Budget"
Individualized Wedding
At Sensi Events, we understand the importance of personalization and
customization, which is why we work closely with our clients to create a wedding that is tailored to their
unique needs and tastes. Whether you're looking for a traditional wedding or something more modern and unconventional, our team will help you bring your vision to life and make your wedding truly unforgettable. Destination weddings are a unique and memorable way to celebrate your love, but they can be complex and stressful to plan. By working with a professional event planner like Sensi Events, you can take the stress out of the planning process and ensure that your wedding is a success. With our years of experience, commitment to excellence, and focus on personalization, we are the best choice for your destination wedding.
Get Expert Help!
If you're planning a destination wedding, contact Sensi Events today or book a free consultation using our online contact form, and learn more about how we can help (the options are endless!). With our expertise and commitment to excellence, we can help you plan the perfect destination wedding that will exceed your expectations and make your dream a reality.
Absolutely! A luxurious wedding can still be achieved on a budget by prioritizing the most important elements, being creative with your décor, and opting for cost-effective solutions. For example, you can invest in high-quality flowers and linens, while still keeping the guest list and venue size under control. The key is to focus on the things that matter most to you, and finding ways to make your budget work for you, rather than against you.
The services offered by an event planner can vary, but typically include:
Initial consultation to understand the client's event vision and requirements
Venue search and selection
Budget management (very important and often overlooked when planning an event yourself!)
Vendor selection and management (catering, decorations, entertainment, etc.)
Coordination of all event details, from start to finish
On-site event management and support
Post-event evaluations and follow-up
Event planners offer a full-service solution that can include anything from the initial consultation to the post-event evaluations and follow-up. Their goal is to take care of all the details and ensure that the event is executed seamlessly, so that the client can focus on enjoying the event and creating lasting memories!
Hiring an event planner can significantly reduce stress during the planning process. Event planners take on the majority of the planning responsibilities. They handle everything from finding the perfect venue to coordinating with vendors and suppliers. By entrusting an event planner with the planning process, you can avoid the hassle and frustration that often comes with event planning, and simple enjoy your event for once!
Sensi… Events That Delight All The Senses
Celebration is how we mark the passing of time, honour the milestones of life, and recognize accomplishments. Let Sensi elevate your celebrations with unique and unforgettable events that will impress your guests and create memories that last a lifetime.
Call 1-780-271-8748 or fill out our online form to connect with Sensi Events today.