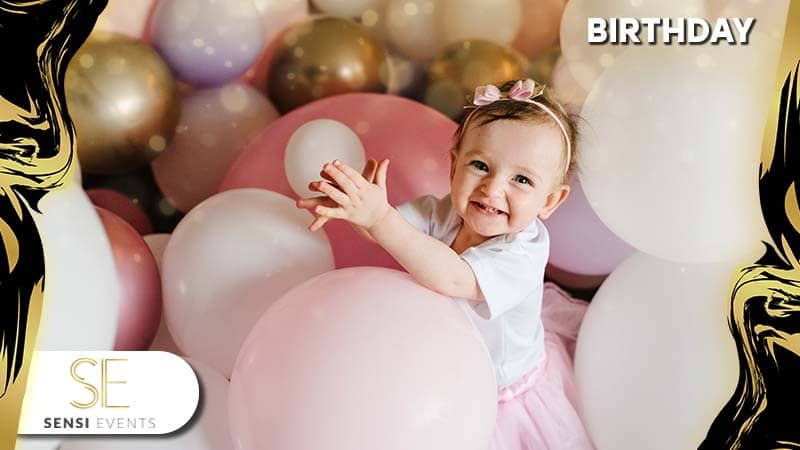 To mark the passing of each year is to recognize wisdom, growth, and change. To celebrate a birthday is to acknowledge the value of life, family, and friendship. Sensi Birthday parties are immersive, engaging, one-of-a-kind experiential events that will make a mark on everyone who attends. We leave nothing to chance, meticulously planning every birthday event down to the finest detail.
SENSI means that all of your senses…
sight, smell, hearing, taste, and touch…
are engaged and heightened, imprinting the memory of your event forever.
Make any year special with a Sensi Events birthday party celebration. From playful, boisterous children's birthday parties to lavish and luxurious, adult-only birthday extravaganzas, Sensi Events promises completely personalized, impressive, and unforgettable soirees. Our discovery process will help us uncover the honouree's personality, style, and hopes for the event so that we can create a party tailored just for them. Our birthday celebrations are one-of-a-kind, immersive experiences that will leave your guests feeling that they have been included in something very special. We can design and execute events of all sizes.
The Sensi Difference is a party designed to reflect the unique tastes of the birthday guest of honour with interesting themes, distinctive activities, games, and entertainment, mouth-watering food, lighting and decor, and music that makes you want to dance. Let Sensi Events design a birthday celebration for the ages.
What We Do
Sensi Events are bespoke, distinctive events that elevate the guest experience. With a passion for immersive, creative, experiential celebrations, our team will free up your time, streamline the process, optimize the budget, and ensure that guests know they have been part of something significant. From small and intimate affairs to luxurious and lavish galas, Sensi engages every sense to deliver outstanding events.
We love surprises! An event manager is even more important when you are planning a surprise party so that they can take on the burden of sneaking around and take suspicion off of you!
We have trusted vendor partnerships that provide our clients with a variety of products and services at industry courtesy rates. We make sure that we have vetted our vendors before they work with our clients to ensure event success. We make sure they have a good reputation. We also keep in close contact with our vendors to keep their activities on schedule and budget. Through our strong working relationships with our vendors, we are able to provide excellent results for our clients.
Sometimes our current schedule of events will dictate the scope of any new projects we take on. We encourage you to reach out to us with your event vision and budget and we can discuss the best way we can help you.
Elevate Your Events With Sensi Sensi Events are completely bespoke, memorable events that reflect the goals of our clients and engage every guest who attends. Our experience and industry connection will streamline the process and save you time and money. Celebrate the important moments that make life grand by choosing Sensi Events.
Call 1-780-271-8748 or fill out our online form to connect with us today.
Sensi… Events That Delight All The Senses
Celebration is how we mark the passing of time, honour the milestones of life, and recognize accomplishments. Let Sensi elevate your celebrations with unique and unforgettable events that will impress your guests and create memories that last a lifetime.
Call 1-780-271-8748 or fill out our online form to connect with Sensi Events today.