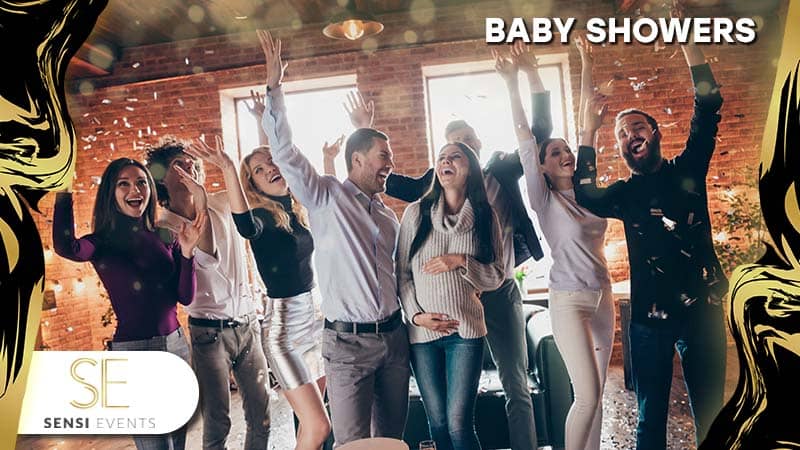 Every new life is a cause for celebration! What better occasion to gather the people who will welcome this new baby into their fold and shower their love and support on this new little human? Baby showers are the best way to celebrate new life and family love.
Traditionally, baby showers were attended by ladies only, intended to support the new-mom-to-be and to gift her with all of the necessities for the new addition. But baby showers have evolved to be more of an inclusive celebration, welcoming the little bundle and gathering all of the friends and family anticipating the new arrival with a stylish, unique, and memorable event.
The Littlest Details For The Biggest Impact
Sensi Events delivers bespoke and darling baby showers incorporating sophisticated themes, charming decor, sumptuous food, and special games and activities where every detail is considered. Our discovery process ensures we get to know the parents-to-be, their pregnancy journey, and their hopes and dreams for their baby so that this baby shower is completely reflective of their own personal story of love and creation.
Sensi Event baby showers can be designed to include:
Invitations
Florals and balloon decor
Small bites or full-meal catering
In-home or venue locations
Alcoholic and non-alcoholic bar service
Entertainment
Photography
Games and activities
Registry coordination
Special services like pedicures, facials, or massages
Party favours
And because we know that babies like to keep us on our toes, Sensi Events is prepared to accommodate early and late arrivals should Baby decide to come when least expected!
What We Do
Sensi Events are bespoke, distinctive events that elevate the guest experience. With a passion for immersive, creative, experiential celebrations, our team will free up your time, streamline the process, optimize the budget, and ensure that guests know they have been part of something significant. From small and intimate affairs to luxurious and lavish galas, Sensi engages every sense to deliver outstanding events.
Ideally, we should begin planning 6-8 weeks before the shower date. But our team can plan showers on shorter notice and still ensure a beautiful and memorable event.
Traditionally the baby shower was hosted by a distant relative to avoid the appearance of gift grubbing. But today it is perfectly acceptable for grandparents, aunts, friends, or even the mom-to-be to host a baby shower.
There are benefits to both of these scenarios. A baby shower before the baby is born can capitalize on the general feeling of anticipation, catch mom at a time before exhaustion or the baby blues have taken hold, and make sure that the parents have some of the necessities for the baby well ahead of time. A shower after the baby is born, also called a "Sprinkle", gives mom the opportunity to introduce her bundle of joy to the group without having to host an endless stream of visitors and guests can give more personalized gifts now that the gender and name are known. But the best answer will come from the mom herself. Ask her which option she would prefer.
Elevate Your Events With Sensi Sensi Events are completely bespoke, memorable events that reflect the goals of our clients and engage every guest who attends. Our experience and industry connection will streamline the process and save you time and money. Celebrate the important moments that make life grand by choosing Sensi Events.
Call 1-780-271-8748 or fill out our online form to connect with us today.
Sensi… Events That Delight All The Senses
Celebration is how we mark the passing of time, honour the milestones of life, and recognize accomplishments. Let Sensi elevate your celebrations with unique and unforgettable events that will impress your guests and create memories that last a lifetime.
Call 1-780-271-8748 or fill out our online form to connect with Sensi Events today.