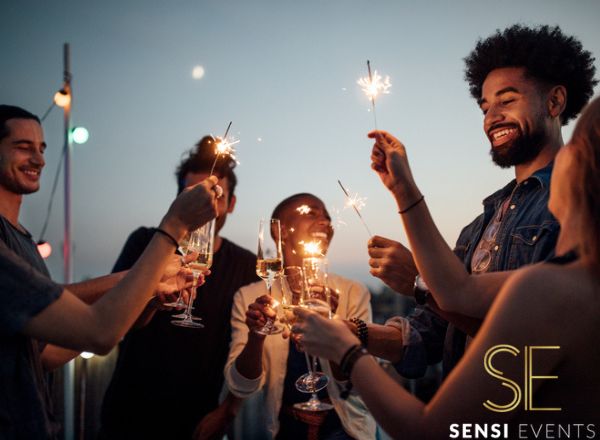 In this blog, I will cover the topics of funerals, memorials, and celebrations of life. We will cover the difference between each of these events, and what they entail. Celebrations of life blend the more formal and informal aspects of a memorial service. Both of these events share the common purpose of celebrating the personality of the deceased. Trying to plan an event during a time of grief is no easy task. These are events that require planning and attention to detail. Sensi Events offers services that assist with the planning and execution to assist our clients in their time of need.
A Personal Connection
I lost my father in 2018 after a short bout with cancer. It hit him like a ton of bricks, and the punch it packed was too much for his body to bear. It was confusing. I was sad, angry, helpless, and overall just broken. We as a family were left to pick up the pieces after what felt like the glue of our family had disappeared. What do I do? How do I process this? Where do we go from here? How come I didn't think of this before? I knew he was sick. I could have prepared. Thought after thought. Question after question. So much to do now, in so little time. I want to just sit in my room and cry, but there are so many logistics to be planned. I find myself running to Staples to pick up cardstock, making phone calls to funeral homes and florists, and arranging details for a memorial service to honor the life of this great human who had passed on. While doing all of this, I am dealing with a hole in my heart, and an emptiness that I know is never going away.

Our Objective
Losing a loved one is a difficult and emotionally draining fact of life. Dealing with the passing of a close family member or friend can bring about many emotions that are hard to deal with. Mourners feel grief and sadness; they are overwhelmed, stunned, angry, and drained. Planning any type of event while your body and mind are under duress is unheard of. There are so many things to think about and do when a loved one is lost. There are certain practicalities and legal necessities that must be handled, as well as the logistics that must be dealt with for funerals, memorial services, and celebrations of life. During difficult times, we as humans need to be surrounded by a community that is understanding, respectful, non-judgmental, and efficient. This is why Sensi was created with an overarching goal in mind: to help people in their times of need.
Coordination, logistics planning, and vendor procurement are not only required for weddings and milestone events, but also for funerals and memorials. After my father's religious funeral and memorial service, I was distraught. We had been crying all day, or many days at this point. In an effort to lift my spirit, my husband organized a table at a local restaurant where we gathered with about 30 of our close friends and family, and we did what my dad loved best: eat, drink, and be merry. We shared stories and laughs that we had with my father. It felt so nice to be surrounded by people who loved him as much as I do. The event truly served its purpose: to bring joy at the end of a very somber and exhausting time. We celebrated my father's life, just like he would have wanted us to.
Sensi… Events That Delight All The Senses
Celebration is how we mark the passing of time, honour the milestones of life, and recognize accomplishments. Let Sensi elevate your celebrations with unique and unforgettable events that will impress your guests and create memories that last a lifetime.
Call 1-780-271-8748 or fill out our online form to connect with Sensi Events today.